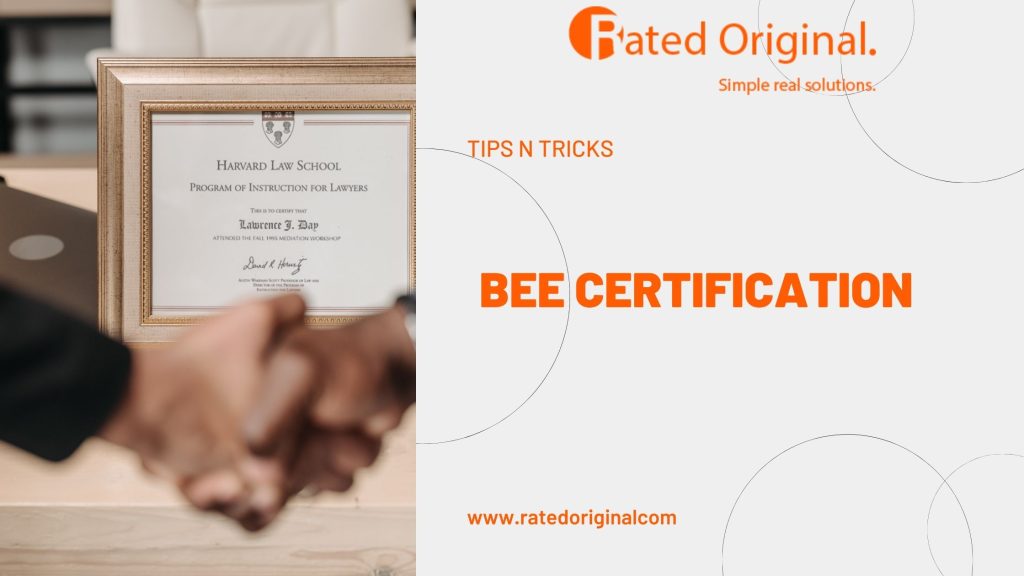 BEE Certification
Black Economic Empowerment (BEE) is a government policy in South Africa that aims to promote economic empowerment of black people. One of the ways that BEE does this is by requiring businesses to obtain a BEE certificate. A BEE certificate is a document that proves that a business complies with the requirements of the BEE Act.
There are two types of BEE certificates:
Exempted Micro Enterprise (EME) Certificate: This certificate is for businesses with an annual turnover of less than R10 million. EMEs are automatically exempt from the requirements of the BEE Act.
Broad-Based Black Economic Empowerment (BBBEE) Certificate: This certificate is for businesses with an annual turnover of more than R10 million. Businesses that want to obtain a BBBEE certificate must complete a self-assessment and submit it to the South African National Accreditation System (SANAS). SANAS will then assess the self-assessment and issue a BBBEE certificate if the business meets the requirements.
How to Get a BEE Certificate
To obtain a BEE EME (Broad-Based Black Economic Empowerment Exempt Micro Enterprise) Affidavit certificate, you can follow these steps:
1. Understand the BEE EME Affidavit requirements: Familiarize yourself with the criteria and requirements for qualifying as a BEE EME, such as the annual total revenue threshold and ownership structure. Ensure that your business meets the eligibility criteria.
2. Gather necessary documentation: Collect the required documents, which may include your business registration documents, company profile, financial statements, and proof of ownership and control.
3. Complete the BEE EME Affidavit: Prepare an affidavit stating that your business qualifies as a BEE EME according to the applicable legislation. The affidavit should include relevant details, such as your business's annual total revenue, the percentage of black ownership, and the control structure.
4. Affidavit attestation: Have the affidavit notarized or attested by a commissioner of oaths. This step ensures the legal validity and authenticity of the document.
5. Submit the affidavit: Provide the completed and attested BEE EME Affidavit to the relevant authority or entity responsible for BEE certification in your jurisdiction. This could be a government department, a BEE verification agency, or a designated industry-specific body.
6. Verification and processing: The authority or agency will review your submitted affidavit and supporting documentation. They may conduct checks to validate the information provided and ensure compliance with BEE regulations.
7. Issuance of BEE EME Affidavit certificate: If your application is successful and your business qualifies as a BEE EME, you will be issued a BEE EME Affidavit certificate. This certificate serves as evidence of your business's BEE compliance status and can be used for various purposes, such as tender applications or procurement opportunities.
It's important to note that the exact steps and requirements for obtaining a BEE EME Affidavit certificate may vary depending on the jurisdiction or country in which your business operates. It's advisable to consult the specific regulations and guidelines provided by the relevant authorities or seek professional assistance to ensure compliance with the applicable laws.
If your business is not an EME, you will need to follow these steps to get a BBBEE certificate:
Complete a self-assessment. The self-assessment is a document that you will need to complete to assess your business's compliance with the BEE Act.
Submit the self-assessment to SANAS. You can submit the self-assessment online or by mail.
Wait for your BBBEE Certificate. SANAS will process your application and issue your BBBEE Certificate within 30 working days.
Benefits of BEE Certification
There are many benefits to obtaining a BEE certificate. Some of the benefits include:
Increased access to government tenders
Increased access to business with large companies
Increased credibility with customers and investors
Reduced risk of discrimination
Increased opportunities for black economic empowerment
Conclusion
BEE certification is an important step for businesses that want to participate in the South African economy. By obtaining a BEE certificate, businesses can demonstrate their commitment to black economic empowerment and gain access to a number of benefits.